Lavender Game Day- Photos & Auction/Raffle Winners
---
---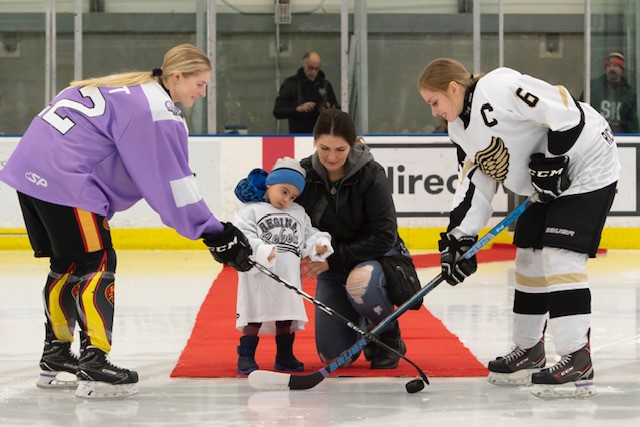 ---
We had a pretty great day on Saturday! Our Regina teams both came away with the win and there was some fantastic fundraising done which will all go to the Canadian Cancer Society for Hockey Fights Cancer. The Midget AAA Rebels and Pat Canadians raised over $8000 to donate for Hockey Fights Cancer! WOW!
Thank you to Glens Lens for being our game day photographer!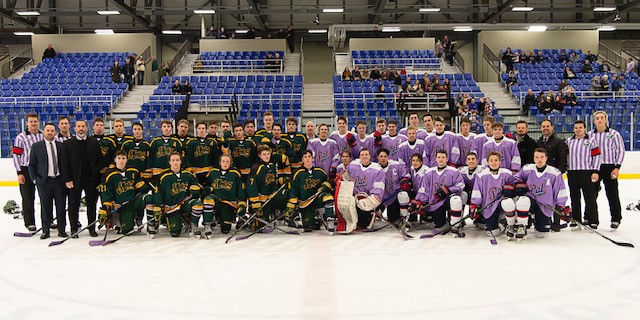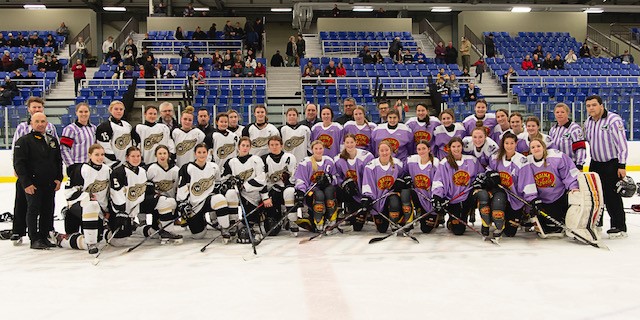 Our very, very special guests for the puck drops.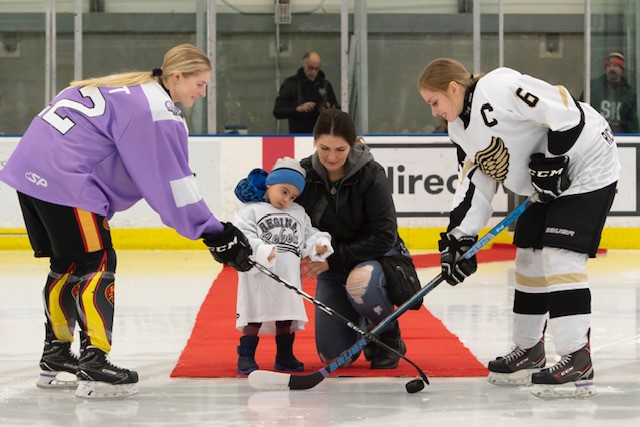 Tobias is a fierce 3.5 year old boy with a Low Grade Glioma Astrocytoma of the Brain Stem. If left untreated, it will be fatal.
He was officially diagnosed at 22 months after presenting symptoms as early as 3.5 months of age. He is currently doing his second chemotherapy protocol after the first protocol failed and had tumor growth. Both the old and new protocol are once a week for 18 months. This is all in the hopes that the tumor will shrink or achieve long term stability.
Tobias continues to push forward having just relocated to Regina to be closer to his medical team at Allan Blair and weekly therapies PT, OT & Speech at Wascana.
He has recently been accepted into Hopes Home, an early learning Daycare geared for children with complex medical needs. This provides him with some levels of normalcy in his otherwise busy young life.
We are continuously reminded that this is not a sprint, but rather a marathon, that we pray we will win!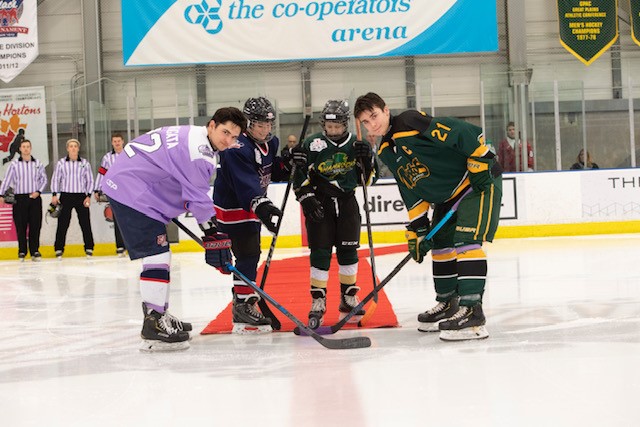 Caine was a typical healthy 11 year old boy who loved sports, playing with his friends and video games. On July 4, 2019 that all changed.
After tons of bloodwork, xrays and tests in Regina they found a large mass in Caine's chest. He was air lifted to Saskatoon to be further examined by the pediatric oncology team.
On July 10 Caine's world changed forever. Caine was diagnosed with TCell Acute Lymphoblastic Leukemia (T-All). This diagnosis brings a 3 year treatment plan.
Caine is a fighter and taking it day by day. He is so far doing very well through treatments.
Thank you for your support!- Jamie (Caine's Mom)
We fight for you Tobias and Caine.
---
REBELS JERSEY AUCTION WINNERS:
#2 DYER- MARK WHITFIELD
#4 PETFORD- GENEISE PETFORD
#5 LEGGETT- CRYSTAL LEGGETT
#8 BELLEFONTAINE- AGNES BELLEFONTAINE
#9 PEDERSEN- RYAN NIELSON
#10 LAMOTTE- DALE LAMOTTE
#11 MYERS- FAY MYERS
#12 TERRY- DENISE TERRY
#14 BOHLKEN- DEAN BOHLKEN
#15 HAYHURST- DEBBIE BEER
#16 FLYNN- MARCIE FLYNN
#17 BRICK- CONNIE BRICK
#19 GERRARD- BEV GERRARD
#21 PRITCHARD- VAL PRITCHARD
#23 DeCORBY- KIM DeCORBY
#24 BAILEY- CAREY BAILEY
#31 WELLER- GARY/MICHELLE KNAUS
#35 SCHLAMP- CALVIN SCHLAMP
---
PAT CANADIANS AUCTION WINNERS:
#3 THIRD- KAREN ZUREVINSKY
#5 BARNETT- JADE BARNETT
#6 DIGNEY- TERESA DIGNEY
#11 LISKOWICH- TODD LISKOWICH
#15 HAMMETT- JIM MODJESKI
#18 WHYTE- JERRY THIESSEN
#19 GORDON- HEATHER GORDON
#20 ROMANYK- SARAH CLEMENS
#21 KUNTZ- KAREN KUNTZ
#23 CAIN- MILT KERPAN
#24 JOHNSTON- KEVIN ALTWASSER
#25 GRONICK- ROD BENROTH
#26 HOLBA- KATELYN HOLBA
#27 MILLETTE- ROWAN PATTISON
#30 THOMPSON- RHONDA THOMPSON
#32 DEGELMAN- SUZI DEGELMAN
#35 RAMAGE- HEATHER RAMAGE
#36 SWETLIKOFF- DEAN VISTE
---
RAFFLE WINNERS:
SIGNED AHO JERSEY- JUSTIN BRICE
SIGNED PATS TEAM JERSEY- BRADY KELLER
PATS TEAM TICKET PACKAGE- KEN RITSCO
22FRESH LAVENDER HOODIE- ASHLEY CHAPMAN
ASSORTED GIFT CARDS- BRENNAN BANBURY
ASSORTED GIFT CARDS- McKENZIE PETFORD
BAUER SKATES- LINDSAY BELAIR
HOCKEY REGINA GIFT PACK- SONIA ENGLOT
SR SMALL HOCKEY PANTS- LUKE FORNWALD
HOCKEY CARDS- LOGAN SCHMIDT
SNOWMAN MUGS- KATE LISKOWICH
SUDS GIFT CARD- SEAN DUFOUR
CORA GIFT CARD- ANGELA RYGH
MENCHIES FROZEN YOGURT GIFT CARD- SONIA ENGLOT
iTUNES GIFT CARD- MARIANNE BOYCHUK
SUDS GIFT CARD- TARA KNOWLES
DEER VALLEY GOLF PASS- TRACY WATSON
DEER VALLEY GOLF PASS- SARAH CLEMENS
TEAM SIGNED LAVENDER REBELS JERSEY- LARYSSA HINKS
TEAM SIGNED LAVENDER PAT C'S JERSEY- DENISE SEBASTIAN
BIG TEDDY BEAR- BETTY KISH
REBELS T-SHIRT- GENEISE PETFORD
ROCK THE RINK T-SHIRT- MARILYN LEGGETT
ROCK THE RINK T-SHIRT- NOAH DIGNEY
HOCKEY FIGHTS CANCER SHIRT- TANYA KLIPPENSTINE
FOOD PROCESSOR- SHELLEY QUIST
BAUER STICK- MILLER FRANKIEWITZ
BAUER STICK- D. CALLANDER
BAUER STICK- JOE FLYNN
LOONIE STICK- KYLENA GRONICK
CANDY JARS- BRODY WEBER , REILY ZUROWSKI
Please contact jeberle@hockeyregina.ca if you have won a prize or stop in at the Hockey Regina office and pick it up, Monday-Friday 9:00-5:00
---
---
---
Nov. 20/2019
Both teams will be auctioning off their game jerseys with all proceeds going to the Canadian Cancer Society for Hockey Fights Cancer.
Bids can be placed the following ways:
-by commenting with your bid at www.facebook.com/HockeyRegina/
-live bid at the games
-email jeberle@hockeyregina.ca with your maximum bid and HRI will manage your bids for you
So many of our teams have already done such amazing things to show support for our Hockey Fights Cancer campaign, we are so proud of you all! Remember every contribution matters...big or small.
Come out on Saturday to not only cheer on our Midget AAA teams but to inspire hope and courage for those who are living with, going through, and moving past cancer.
There will be very special guests dropping the pucks at both games including one of our Pee Wee players who is currently battling TCell Acute Lymphoblastic Leukemia.
On Lavender Game Day let's pack the rink and show him that we are all fighting for him!
Bring your team, your neighbours, your friends (anyone you can fit in the car!)
See you on November 23!