2016/17 Provincial Champions
---
---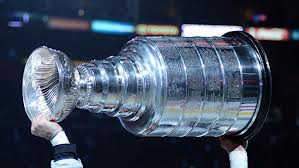 ---
Pee Wee AA Tier 2 - Royals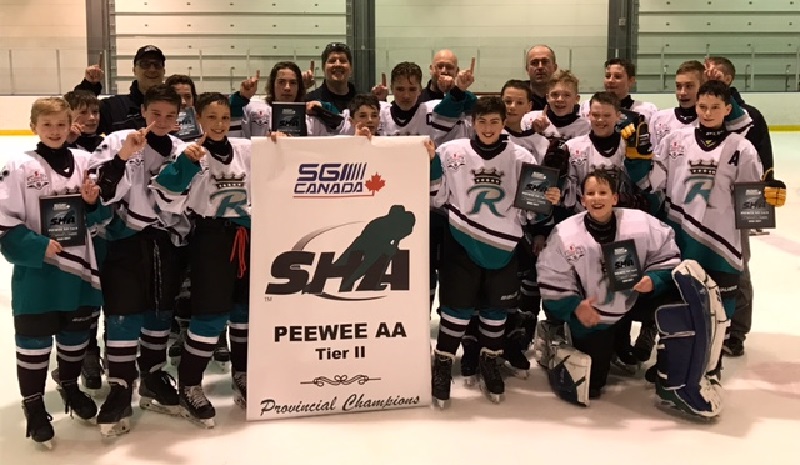 Royals beat Saskatoon Viper Flyers 8-6 in two-game total final
Nicholas Amos, Rylan Ell, Aiden Friskie, Aidan Gulak, Landon Husli, Logan King, Jax Noble, Aiden Norton, Evan Numrich, Rylan Numrich, Brady Schatz, Evan Schwartz, Coltun Sivertson, Brett Thachuk, Sebastian Trask, Evan Weldon. Coaches: James Gulak (HC), Chad Schatz, Bryan Sivertson, Scott Friskie, Jeremy Trask
---
Pee Wee AA Tier 3 - Tigers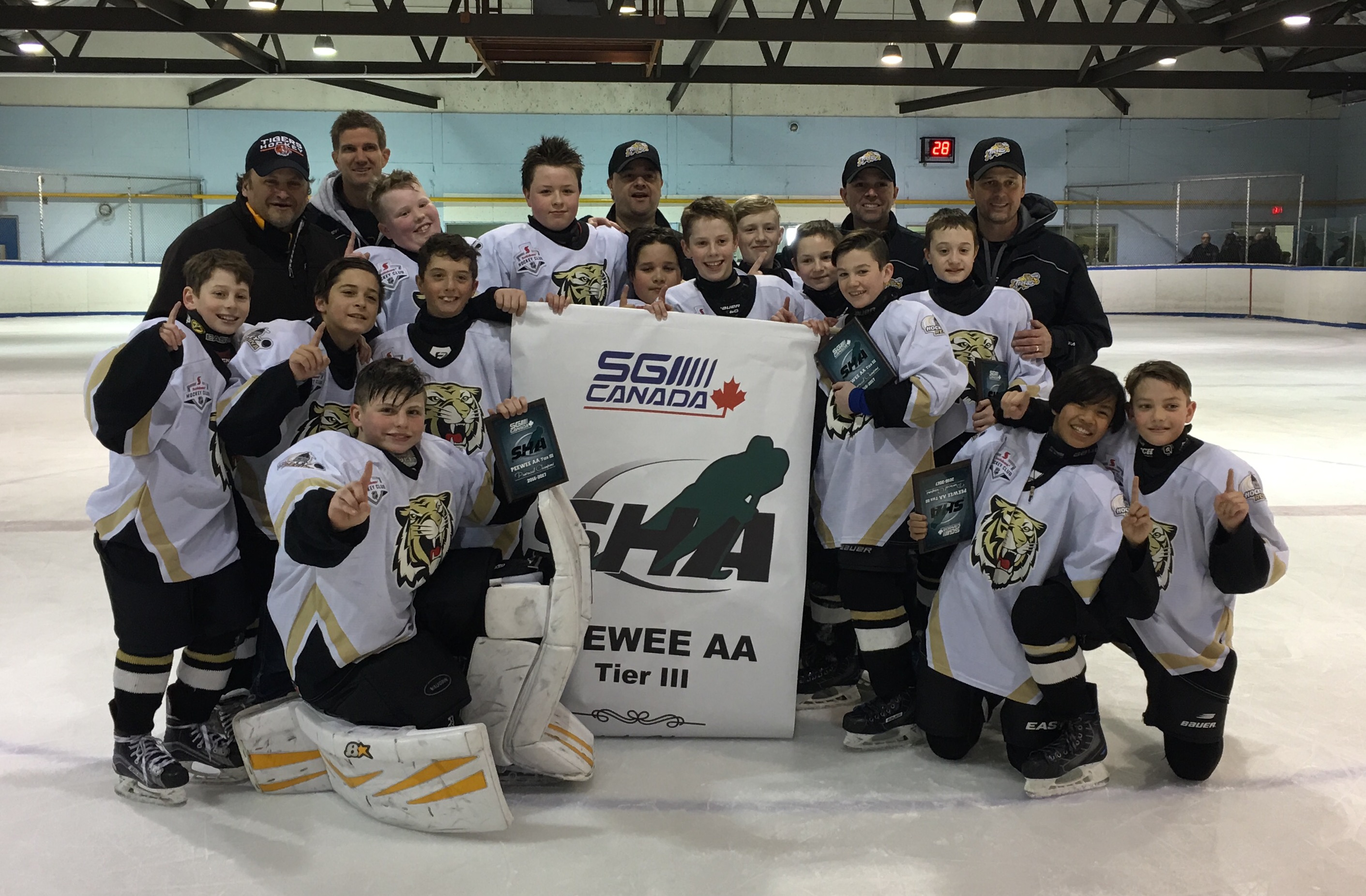 Tigers beat Saskatoon Bobcat Leafs 11-6 in two-game total final.
Erik Amberson, Thomas Apperley, Aiden Ash, Nolan Davies, Benicio Dejaegher, Kian Knoll, Jayke Knoll, Brady Lang, Ryan Meyer, Daelin Mirza-Shordee, Gabriel Ong, Mathew Rae, Max Rozon, Henry Taylor. Coaches: Rob Knoll (HC), Richard Davies, Trevor Lang, Justin Rae, Rod Taylor
---
Midget AAA - Pat Canadians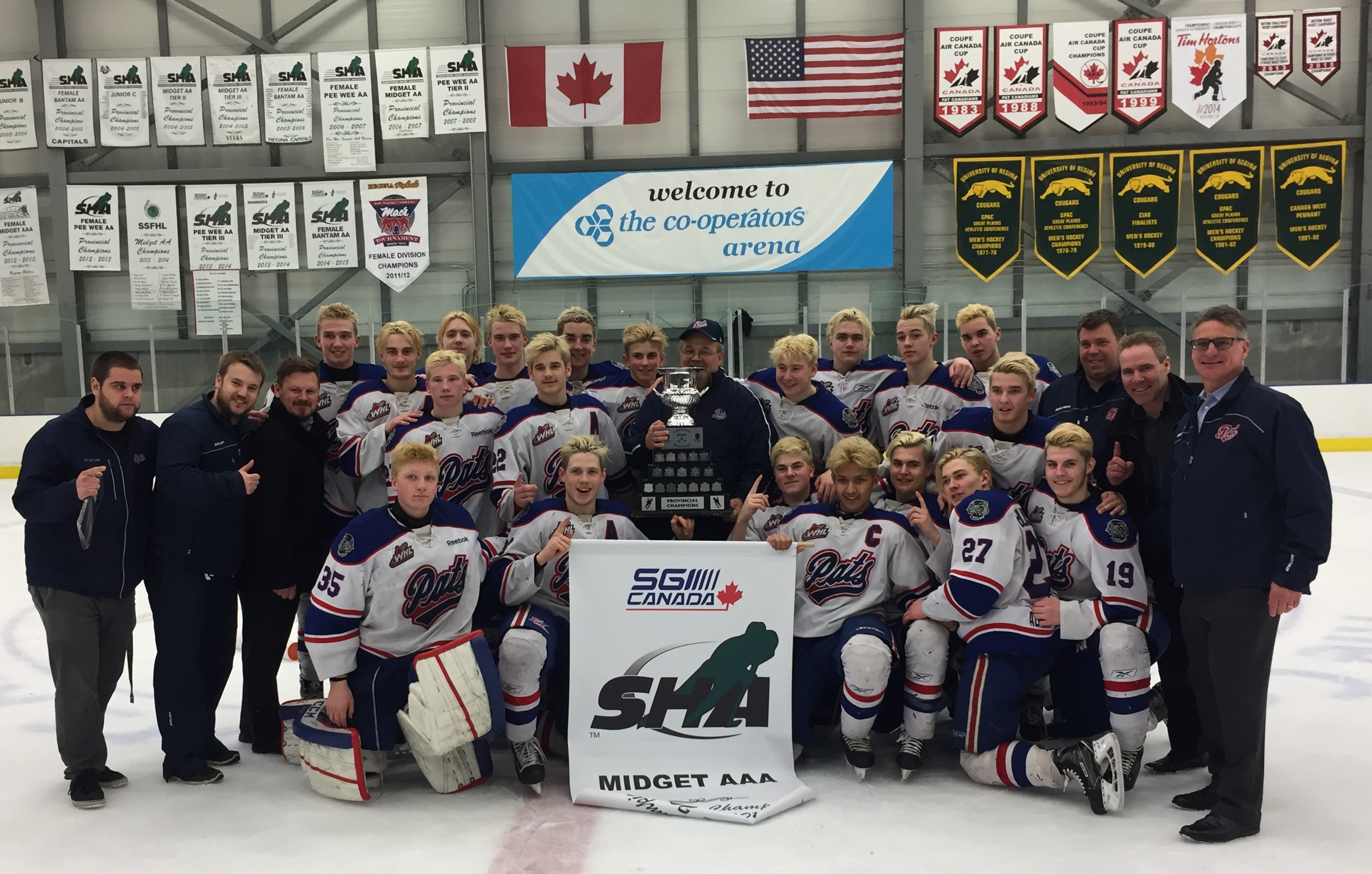 Pat Canadians swept Tisdale Trojans 3-0 in the best-of-five SMAAAHL Final. The Pat C's are off to the Western Regionals in Steinbach, Manitoba March 30-April 2.
Harrison Blaisdell, Preston Brodziak, Keigan Callander, Matthew Chekay, Matthew Culling, Carson Denomie, Peyton Gorski, Parker Hendren, Adam Herold, Eric Houk, Alex Kannok-Liepert, Jordan Kazmyra, Tyler Lees, Dean McNabb, Nathan Moore, Chase Nameth, Eric Pearce, Randen Schmidt, Lukas Sillinger, Ben Solomon. Coaches: Darren McKechnie (HC), Bart Cote, Keith Dore, Jon Golden, Mike Sillinger. Manager: John Smith. Trainers Adam O'Neill, Michael Souliere, Taylor Souliere
---
Bantam Female AA - Ravens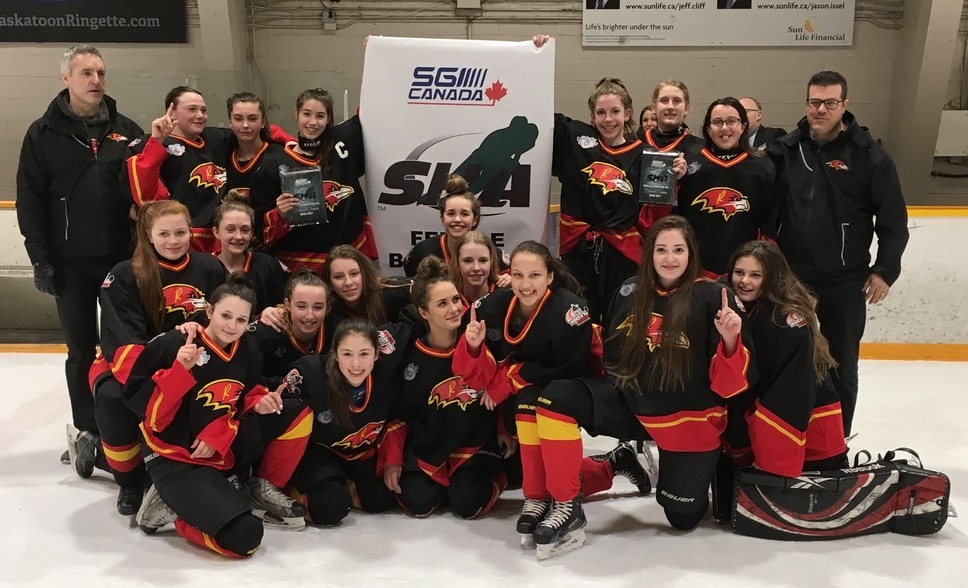 Ravens beat Saskatoon 8-1 in two-game total goal final.
Hanna Bailey, Neena Brick, Sophia Buckberger, Harmony Chicoose, Kaylee Dryer, Emily Findlay, Brooke Holt, Olivia Johnson, Olivia Leggett, Olivia Leier, Tori McNabb, Sydney Pedersen, Sadie Rabiej, Hanna Sexsmith, Payton Schlamp, Tavia Terry, Tayla Trakalo. Coaches: Jeff Brick, Corey Terry, Darcy Fleischhaker
---